BIM – Building Information Modelling – is a way of working with and of managing the digital information throughout the lifecycle of a construction project. The information is typically created and stored in a 3D BIM model or series of models. In recent years technological advances allow architects and the wider design team to work much more collaboratively and efficiently together on one combined model. These efficiencies lead to more clarity of the design, clarity and control of the construction process, and certainty and control of the associated costs.
Many governments now require the adoption of BIM. In 2014 the European Union voted to encourage and support the adoption of BIM. In France the government has been supporting and encouraging the adoption of BIM through the "Plan Transition Numérique dans le Bâtiment" (PTNB). Rapidly BIM is becoming the standard delivery method for architecture all over the world, and is becoming a requirement for more and more projects. It has become essential that architects and the design team are conversant with BIM to deliver their projects.
The WA Projects BIM studio has been using BIM authoring software to create complex BIM models since 2005, primarily in Revit, but also in other mainstream software such as ArchiCAD, AECOsim and Vectorworks, and continue to be at the forefront of the BIM revolution.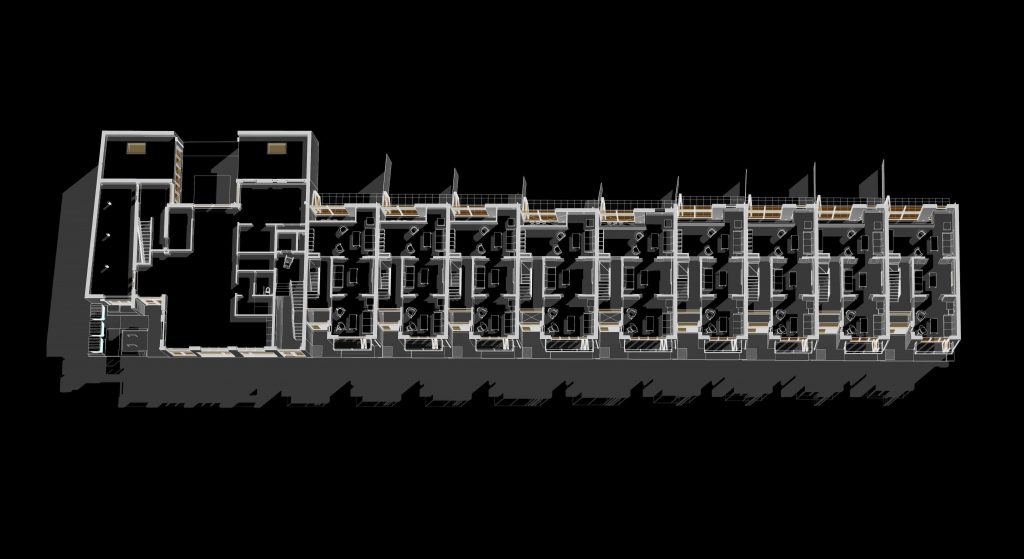 Click on the image to manipulate the 360º view with your mouse
The 360º images and 3D drawings included on this page are with the kind permission of Willmore Iles Architects, Bristol, UK. The 360º panoramique views have been developed from a single comprehensive BIM model in a 3D visualisation software to enable the client to fully understand the design, and now is used by the estate agent to let the units.
the following couple of youtube videos outline some of the principles and benefits of working with a team that embraces open BIM
in English  from Graphisoft…..
en français de buildingSMART….